Old Montreal is a neighborhood steeped in history,
elegance and romance around every corner.

No wonder so many couples choose this enchanting setting to celebrate their special day. With its cobblestone streets, authentic buildings and picturesque views of the St. Lawrence River, officiating a wedding here is much more than a simple ceremony – it's a magical experience that will be remembered forever.


Where history meets

love
The first step in planning a wedding in Old Montreal is to designate a site for the ceremony and reception. Between iconic churches, bucolic public squares and illustrious hotels, the options are varied.

For example, the Hotel InterContinental Montréal is the ideal venue for couples looking for a celebration of uniqueness, solemnity and beauty. As well as having a suite to get ready in and to accommodate family and friends at the end of the evening, future brides and grooms can create the ambience of their choice from among the many architecturally stunning rooms. From vast, modern spaces such as the Nordheimer room and its terrace to antique, cosy rooms like the stone vaults in the basement or La Ruelle des Fortifications, everything is possible for a unique, personalized wedding.

Elegance

reveals itself in the details
Old Montreal's elegance emanates from its preserved historic character, refined architecture and timeless charm. Every street corner, every building and every detail of this iconic area tells a story of grandeur and sophistication. The ambience of the old quarter is magnified by soft, warm lighting that transforms the alleys into a romantic tableau at dusk. At sunset, cast-iron lampposts, hanging lanterns and subdued lighting create a fairytale world that invites you to stroll hand-in-hand in love.
The Hotel InterContinental Montréal, in the heart of the old town, paints a breathtaking backdrop in itself, and choosing a wedding theme that complements this atmosphere adds an extra touch of elegance. Think elements such as period looks, soft colors and warm lighting to evoke a romantic mood that naturally blends with the charm of the square.

A

feast

for the senses

Gastronomy is an essential part of any memorable wedding, and Old Montreal doesn't disappoint in this respect. In this iconic district, gastronomy becomes a true work of art, where each dish tells a story of tradition, innovation and love.
The legendary InterContinental Montréal hotel offers a range of gourmet delights, from local fare to international flavors, for an exceptional culinary experience that combines exquisite tastes, creativity and elegant ambiance. Whether it's a casual buffet or a sophisticated dinner inspired by local products, the bride and groom have the exclusive right to meet the chef, choose and taste the dishes that will be served on the big day. Everything is tailored to the lovers' preferences, so that the wedding meal is a moment of delectation for all their guests.
Capturing those moments

forever
The art of photography in picturesque surroundings: a way of capturing the essence of the scene, immortalizing fleeting moments and telling a captivating visual story. In the enchanting district that is Old Montreal, the genius and mastery of the camera transcend reality and produce a shot that evokes timeless emotions and memories.
With its breathtaking architecture and views, this popular area offers the ideal backdrop for unforgettable photos and videos. You don't have to go far to find the cobblestone streets reminiscent of European Romanticism, the famous Rue Saint-Paul, the majestic fountain and the harbor on the St. Lawrence bordering the Hotel InterContinental Montréal. A talented photographer will find unique angles and perspectives to showcase the newlyweds and immortalize the big day.
Logistics without

concern
What's important on a wedding day? Celebrating love. The arrangements leading up to the wonderful, long-awaited "Yes, I do" require meticulous planning and efficient management. The hotel wedding team plays a crucial role in ensuring that every subtlety of this special day is handled with professionalism, creativity and expertise.
The InterContinental Montreal team is no exception. With years of experience in creating customized weddings of all sizes, these masters of event planning are there to turn a dream, an idea, a vision into reality. It's even possible to design, prepare and organize the details of the celebration remotely. Whether it's a small, intimate ceremony or a grand celebration, working with such an inspired brigade makes wedding planning and execution so much easier, allowing lovers to enjoy every moment with peace of mind.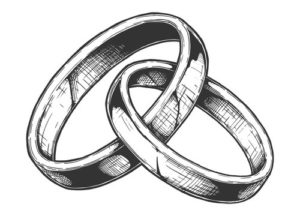 « A turnkey wedding is what I offer my customers. On the big day, they enjoy themselves and have fun while we orchestrate their wishes." -Romain Boyer, wedding planner at the InterContinental Montreal Hotel
A day to

cherish
Ultimately, celebrating a wedding with the InterContinental Montréal hotel in Old Montreal is much more than just an event. It's an immersion in history, beauty and passion that creates timeless memories for the bride and groom and their guests. As vows are exchanged in a picturesque setting, the experience will remain etched in the hearts of all participants for the rest of their lives. After all, our 4-star hotel isn't just a place, it's a testament to eternal love.
The burial of an old

life

The tradition of marriage is to celebrate single life. Old Montreal is undoubtedly one of the most vibrant and trendy neighborhoods, the perfect place for a bachelor party. Just a stone's throw from the InterContinental Montréal, you'll find inviting bars and pubs, discotheques where you can dance until dawn, rooftops with spectacular panoramic views… In short, the hotel's concierge team knows all the best addresses and can take charge of organizing the bachelor or bachelorette party for a tailor-made evening to the delight of the birthday boy or girl and their guests.