Biosphere Certification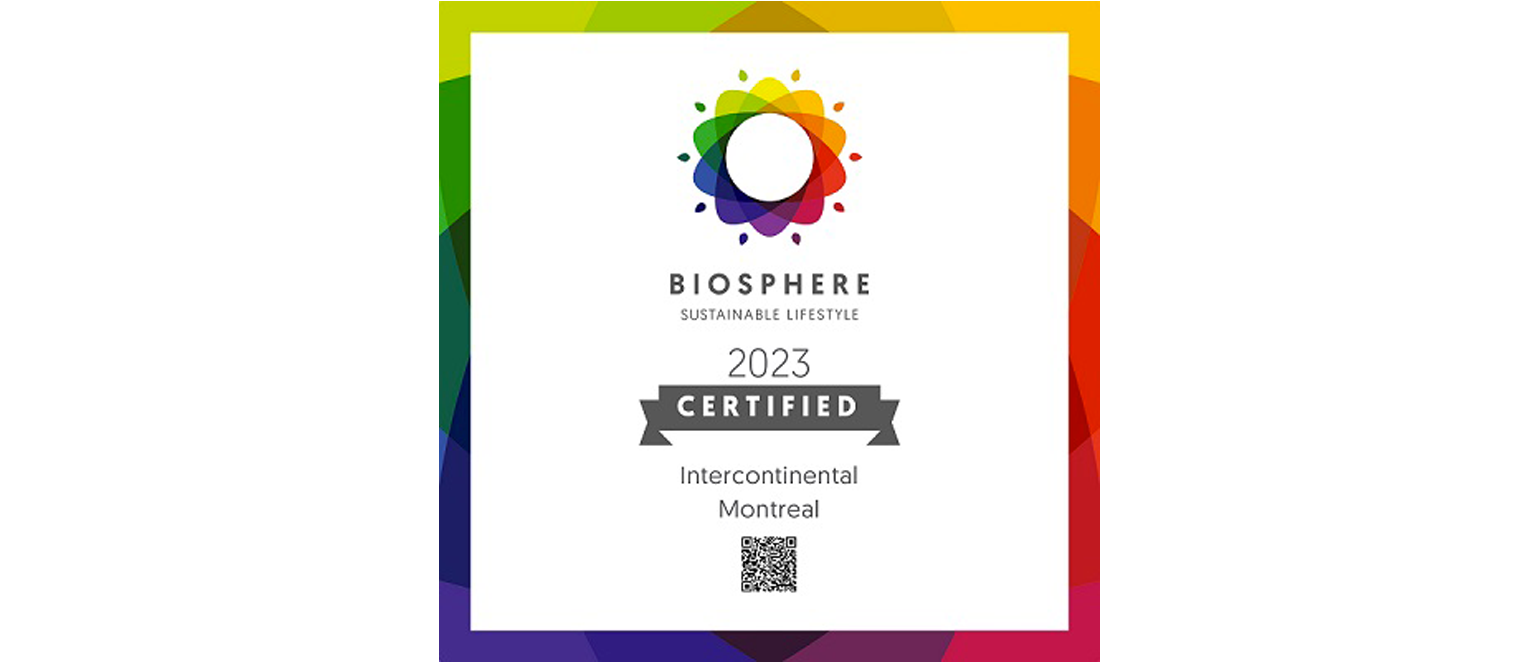 Biosphere certification is issued after an external audit, renewable annually, so our actions are examined on the basis of the 17 sustainable development goals set by the UN. This certification is a recognition of our actions in favor of a more sustainable development of the hotel. The InterContinental Montreal is the first hotel in Eastern North America to obtain Biosphere certification!
Green Engage Level 4
We have a sustainable development department within the hotel called the "Green Committee" where every month we organize a meeting to discuss actions, develop ideas and ecological improvements. To bring to the hotel. We also organize activities to raise employee awareness and we are involved with local associations such as Les Amis de la montagne, or Moisson Montréal. Our hotel is already accredited level 4, the maximum level of certification on Green Engage. A certification issued by our hotel group IHG. This level means that our hotel has implemented innovative actions to reduce its impact on the environment.
Level 3 Green Key
Our hotel is also certified level 3 by the Green Key. First sustainable tourism certification for tourist accommodations and restaurants.
LED Light Bulbs
To reduce our energy consumption, all the bulbs in the hotel are replaced by LED bulbs. This type of bulb consumes 3 times less energy than a standard bulb.
Zero Paper Goal
We reduce as much as possible the reports, displays and printing of paper documents. We also sensitize our customers by encouraging them to receive their invoices by email.
Composting et recycling
Our hotel uses compost for organic waste and recycling garbage cans are set up throughout the hotel including in the rooms. We separate waste from cardboard and P VM (plastic, glass, metal). Finally, we try to recycle as much as possible by calling upon associations or external companies. For example, we recycle furniture, electronic devices, and fabrics.
Responsible purchases
We favor local and responsible purchases for the hotel but also for the restaurant. We look for local suppliers, organic products, and certified companies or products.
Winnow
Winnow is a technology that aims to reduce food waste and improve the profitability and sustainability of restaurant kitchens. This system proposes smart garbage cans that collect data on our food waste (weight and cost per category of organic waste). This allows us to know our organic waste consumption and every month we receive reports and solutions to reduce it.
ECOSIA
We have installed ECOSIA on all the computers in our hotel. ECOSIA is a search engine that contributes to reforestation. For each search made on ECOSIA, a tree is planted.
Energy
Every month we measure and record our ecological footprint (waste, water, and energy consumption). We compare our results year after year to control our consumption and measure our energy efficiency.